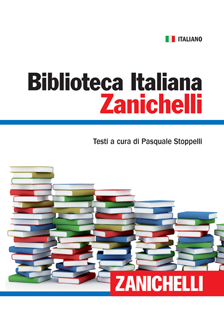 IT Biblioteca Italiana Zanichelli
by Pasquale Stoppelli
More than  1,000 works of Italian literature, 247 authors and 4 poetry anthologies.
The 'BIZ' is the most complete collection of the oldest and most important works of Italian literature.
From Francis of Assisi to Gabriele d'Annunzio, from Giacomo da Lentini to Dino Campana, from Dante to Grazia Deledda, the 'Biz' contains complete texts from the beginnings of Italian literature to the early decades of the twentieth century.
1,000 works
247 authors
17 anonymous texts
4 poetry anthologies
complete series of the magazines Il Caffè and Il Conciliatore